Hollybush Primary School, Derry, Northern Ireland
Can-do attitude reaps multiple benefits
Dogged determination and fantastic team work helped Hollybush Primary School in Derry, Northern Ireland rapidly improve its energy performance, going from Band E to B on the Display Energy Certificate energy performance rating scheme in two years.
Technological investments including a biomass heating system using locally sourced wood pellets have been complemented by regular monitoring of the school's energy performance. But most important has been engagement of staff and pupils across the board. This has been achieved by making gradual changes, with very simple energy saving measures introduced, like installing low-energy lighting, switching off lights when not needed and steadily lowering thermostats in classrooms.
John Greaney Irish Farmers Journal
"The electricity bill between the farm and campus was €60,000. Heating was costing us €100,000 a year. We were using an old peat burning boiler that was on its last legs. It just wasn't sustainable," said Mike Pearson, principal, Gurteen Agricultural College, Roscrea, Co Tipperary.He first noted how electricity and heating bills were at an all-time high about four years ago and immediately acknowledged that the issue needed to be tackled. It certainly was. Almost €1 million has been invested in carrying out their three-pronged plan.The project was broken down into three phases:
Wind energy
Insulating buildings
Willow woodchip boilers
A new wind turbine was installed beside its main campus. Erected in January 2010, the turbine has been a huge success. Approximately 350,000 kilowatts of electricity are needed from year to year to run both the campus and farm and the wind turbine is currently providing 70,000 kilowatts/year to the farm.
The project was grant aided by Sustainable Energy Ireland and co-funded by the Julia Trench Trust. Mike is delighted with the wind turbine, adding: "It has significantly reduced the burden on electricity while reducing our carbon footprint." He outlined how there was no point in going to such effort in generating energy if it was going to go to waste and every building on campus has been insulated. The insulation has contributed significantly to putting a 'dent' into the rising heating bills. Some 300mm of fibre glass was installed in all the attics and all cavity walls on campus have been filled, ensuring that energy efficiency is at an all-time high. Windows have been properly insulated and the place was like a furnace on the day of my visit on a mild summer's day.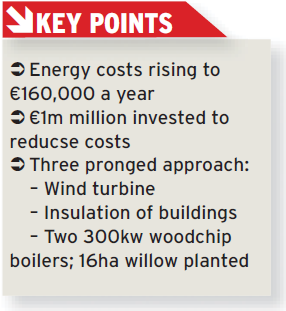 The college looked very closely at the distribution of heat and extended its district heating system throughout the remainder of the college. The new heating system is run by a main control system which cost €15,000 to install. The system is very clever as it co-ordinates with the temperatures outside and responds appropriately. "The fact that it is so simple is probably why it works so well really; it was worth every last penny," said Mike. To add to this, the college has now been zoned into 30 different districts, meaning only some sections of a building will be heated depending on the use of the room and so forth. The big project on site, however, has been the installation of two 300kw woodchip boilers. In September 2010, the college installed the two high efficiency woodchip boilers which will be the building blocks for success in terms of diminishing the total cost of heating the college, which provides accommodation for 100 students.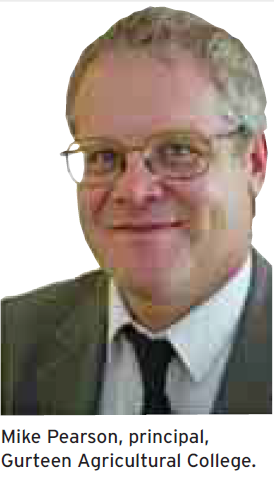 The boilers have the potential to burn over seven tonnes a week and will work in tandem with each other. At the minute the cost of heating the boilers is working out at 3.5c per kilowatt. It would cost 20c with electricity and diesel would cost 10c to 12c. Mike forecasts the cost to fall as low as 1.5c to produce a kilowatt of energy and this isn't even taking into account the income generated by the Single Farm Payment on the 80-acre plot allocated for the willow.   The wheels were set in motion in April 2010 with the planting of willow on 16ha. Willow was chosen to be the energy crop to provide fuel for the college heating system and it wasn't an easy decision to make, said Mike. "Biomass isn't for everyone but in the end we felt it suited our system the most," he said. The 16ha planted in April 2010 was then cut back using a disc mower in February of 2011. With willow, if it is not cut back it will only produce one shoot, leading to an uneconomical harvest. Cutting the crop will promote good regrowth and encourage the production of more shoots, and all cuttings are left to recycle their nutrients into the soil. A further 15.5ha were planted in April 2011 and cut back in February 2012. Establishment cost €2,600/ha but this was reduced to €1,300/ha as they received the 50% planting grant at the time for willow. The college was particularly lucky as it also got some funding from the Serve Project at the time. "Eight different varieties have been sown in adjacent plots to minimise the risk of losses due to disease. All our willow is planted on an 80-acre field that was used for barley. Today, it's the largest field of willow in Ireland," said Mike.
Yields are expected to reach 10 and 12 tonnes/ha each year, producing 350 tonnes of drychip (25% moisture) at 3,700 kw/tonne, leading to a total available energy of around 1,300Mw. If the efficiency of the boilers is around 85%, then the available energy more than equals demand.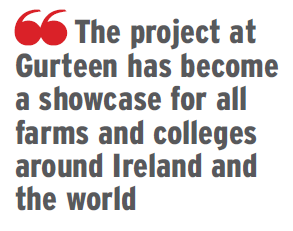 A new 270 sq metre drying floor was constructed within the farm buildings to prepare for the future drying process. The drying shed has cost about €80,000 (including concrete and materials but not the existing shed). The estimated drying cost works out at €25 to €30 per tonne. "It's differs from drying grain. Grain dries sideways whereas we need to dry from the bottom up," said Mike.
Five air pipes supply one grid leading to greater quantities of air making its way through the damp woodchip. It takes anything up to three months to dry out.  Mike realises that things are still at an early stage in terms of working out what system best suits their needs to get the most out of their woodchip boilers.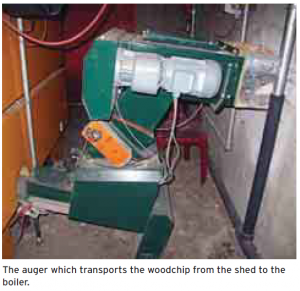 Currently, they are buying in woodchip and smartly paying for it by the heat output. They will continue to buy in timber to supplement their stocks of willow and are currently looking at forestry logs which can be purchased at €40/tonne. "With the stuff we are getting in it varies greatly. Some loads have being drier than others. Anything that goes into the boiler below 17% moisture is too dry and, in turn, we are losing too much heat. Ideally, moisture content would want to be around 20% to 25%," Mike said.
The project at Gurteen has not only become a showcase for all farms and colleges around Ireland but also around the world.