By John Gilliland
The 'forgotten gem' of the Irish renewables industry
John Gilliland director, Original Heating Ltd
Each year in Ireland, €3 billion is spent on producing heat. Or, put another way, 40% of the country's total energy consumption is on heat, the equivalent of 5,200 kilotonnes of oil, and only 1.9% is currently from renewables.
We hear much about the debacle of the Refit tariff and the rate at which it has been pitched. We even hear from time to time about the support for renewable transport fuel. But what we never hear about is support for renewable heat.
Renewable heat is not 'sexy!' It can't be put into a grid or a vehicle. It is difficult to transport and, therefore, to sell, compounded by a culture who have never had to buy heat before. It can be produced from a collection of sources: heat pumps from the ground; water; air; solar thermal, and from biomass or biogas.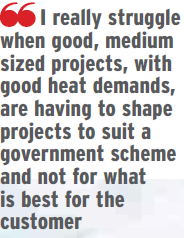 Renewable heat from biomass is particularly useful, being schedulable – i.e. produced when the consumer wants it and switched off when it is not wanted. It is very efficient, with spot efficiencies now being achieved of between 92% and 95% and seasonal efficiencies being achieved of between 65% and 88%.
The EU Commission has warned Ireland that it will not hit its 2020 targets under the EU Renewables Directive unless it actively promotes renewable heat. Dublin's first response was to set a target of 12% of all heat to be renewable by 2020, or the equivalent of €375m of new money being recycled within the Irish economy, which otherwise would have left the country when purchasing the fossil fuel equivalent, of which 80% comes from imports.
Belfast followed suit. Belfast went one further last November and launched the Northern Ireland Renewable Heat Incentive (RHI). The RHI is a British Treasury package worth £680m over three years and, for NI, it is worth £25m.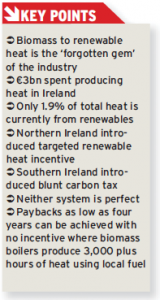 The RHI is a very focused support mechanism, paying on renewable heat being used for 'eligible' purposes over a 20-year contract. For example, a 99kW biomass boiler heating the neighbouring school will receive 6.1p/kWh for every unit of heat used, through a heat meter, index linked for 20 years
Dublin decided to go in a totally different direction. It introduced a blunt instrument, called a carbon tax, which indiscriminately penalises the whole economy. Introduced three years ago at €15/t, it has crept up and is now €20/t, or 5.7c/l of kerosene or 6.5c/l on fuel oil.
What many forget, as this carbon tax is not always transparent, is that this tax is the equivalent of giving another €20 for a tonne of woodchip at 20% moisture to fuel a biomass boiler, or giving a subsidy of 0.7c/kWh.
Neither system is perfect. I know many of my colleagues look enviously to the North. The RHI is a great help, but only for projects under 100kW. Due to different sized projects getting different support, the RHI has completely distorted the market, with no one wanting an installation over 100kW.
Our company quoted recently to install a biomass heating system in a hotel complex. It had a peak demand of 1.3 MW and a base load of 600kW. We looked at two options: a 600kW installation to displace 85% of the oil, or a 99kW installation to displace 17% of the oil.
The 600kW solution had a payback of 6.5 years; the 99kW had a payback of 2.5 years. You can guess which one our client picked, but only after he wormed out of us the commitment that we would submit the highly bureaucratic RHI application form and negotiate with OFGEM, the administrators of the scheme.
You would think I should be grateful for the RHI in the North and, to some extent, I am. There is no doubt it has kickstarted the small-end biomass market.
But I really struggle when good, medium sized projects, with good heat demands, well spread throughout the year are having to shape projects to suit a government scheme, and not shape it for what is best for the customer.
In the south, I accept the sector is still crying out for proper financial recognition from government.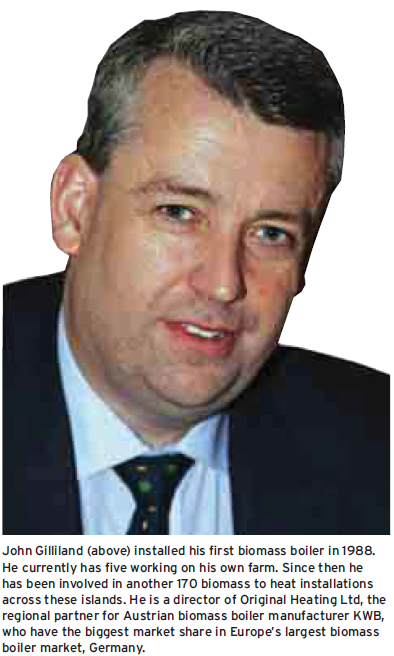 But at least when you have a significant customer, who has an 'all year round' heat consumption profile, you can design a sound, renewable heat installation and give a sound financial payback.
Where biomass boilers are annually producing 3,000 hours of heat or more, we have been able to get paybacks as low as four years, when using local fuel.
Key to this success is where quality dry and graded fuel, 25% moisture or less, is sourced and used locally to create renewable heat to displace purchased LPG or oil, and minimise transport costs.
A number of projects clearly show this, such as Gurteen College in Roscrea.
It has been tremendously successful and it is why I am still adamant today that biomass to renewable heat is the 'forgotten gem' of the Irish renewables industry and why it is still worth investing considerable time and money, and will still deliver, when designed correctly.